Lundar, Apr 29, 2019—Noventis Credit Union and CommStream partner to provide high-speed internet access to residents of Eriksdale and Lundar. 
Two towns in the Interlake will have some the fastest internet speeds in rural Manitoba thanks to an innovative partnership between Noventis Credit Union and CommStream.
Together, the two companies h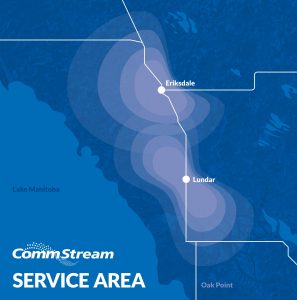 ave cost-shared the infrastructure needed to provide high-speed internet access to Eriksdale, Lundar, and their surrounding communities. Through this project, more than 1,000 homes will have some of the fastest internet in rural Manitoba, with speeds up to 1 Gbps through a cable connection and 50 Mbps over wireless.
"Noventis is committed to finding ways we can re-invest in our communities that will benefit their long-term needs and the over-all well-being of the community members. Helping provide high-speed internet to these communities is giving them access to a resource that has become a foundation in today's society," says Kevin McKnight, CEO of Noventis Credit Union.
The project scope included gaining access to the fiber backbone in Manitoba, and building towers and fixed wireless systems in both communities. The cable systems in Eriksdale and Lundar are live now, and the wireless service will be available come May 1st.
"Living in small communities has many benefits, but often the price people pay to live there is to sacrifice on services that urbanites take for granted," Trevor Finch, Sales and Marketing Director with CommStream." Noventis has shown how a business with vision and a commitment to its community can solve a problem and help improve the lives of the people they serve."
Rural areas in Manitoba are in desperate need of improved internet connections. Typically, a rural Manitoba resident can only expect speeds of up to 5Mbps through old copper lines, compared to speeds in excess of 300Mbps in Winnipeg and other urban areas.
The barrier to most rural communities is the cost of internet infrastructure. Bringing fiber lines or building towers in rural areas can cost millions of dollars, and bringing connections to each home can be just as expensive.
Noventis and CommStream will evaluate this project with the potential of expanding to more towns in the future.